06.03.2019 In February 2019 a new version of the ÖKOBAUDAT is provided. From now on, the new datasets are also available in our online toll lca-online.com. With lca-online.com you will always be up to date in the matter of life cycle assessments.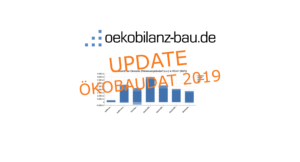 Our online tool lca-online.com integrates the new datasets as well as the optimisations of the ÖKOBAUDAT 2019 (current version 2019-I from February 27th 2019). The current version provides nore than 1200 datasets for a number of different building products.
Further servics
We are also happy to support you with your projects and prepare life cycle assessments and pinpoint estimations in every stage of the project. As a result, we can give recommendations regarding energy optimisation, energy sources and building constructions.
In cooperation with further auditors we were already able to successfully complete the verification of the life cycle assessment in more than 20 projects. This includes a reliable preliminary estimate as well as the preparation of the complete verification documents including quantity survey.
Register now for our online tool lca-online.com or contact us if you have any questions. >> contact