Green Building Certification LEED, BREEAM und DGNB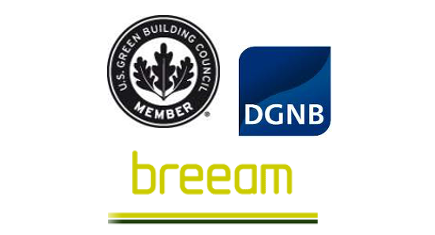 As experienced LEED AP, BREEAM Assessor and DGNB Auditor we carry out green building certifications of buildings.
We offer the following services:
pre-assessment of projects,
provision of functional specifications for planning and construction,
creating application documents and all required proofs for the certification body,
support of the project team through all phases in planning and construction.
Our role in certification projects is a proactive challenge, that requires to recognize risks early and to provide solutions to secure the best possible and most economical result for the client.
Therefore we provide our clients a broad expert knowledge. This conclude the:
professional knowledge in the certification systems,
expert knowledge in planning and building practice,
as well as experience in project management,
We create all required proofs, investigations and calculations in-house, as there are:
life-cycle-cost analysis (DGNB),
energy simulation according to ASHRAE (LEED),
thermal comfort analysis (DGNB/LEED),
life-cycle-assessments (DGNB),
construction waste management plans (LEED),
erosion- & sedimentation control plans (LEED),
indoor air quality plans (LEED),
commissioning documents (LEED/DGNB).